Count Magic GST
Count Magic GST is a Hybrid Accounting Software which allows you to work offline and online . Your data gets synced with the Cloud whenever you get online. Ease of automatic Billing/Invoicing along with automatic GST calculations and GST Returns Filing gives you the freedom from tiresome and erroneous manual accounting. So just use the CountMagic Software for your billing and leave all the calculations and accounting on the software.
Count Magic GST PRO
Count Magic GST Pro is backed with dedicated GST expert who will look after all your GST woes on his own and manages all your accounts on your behalf. So, opting for Count Magic GST Pro means, you get amazing automatic accounting features, i.e. invoicing, billing and real time report generation, along with personalized accounting services.
Why Choose CountMagic GST?
No Delayed GST Return Filing
You enjoy automatic billing/invoicing, automatic GST calculations and uploads. Since, all your required calculations are done in real-time; you do not have to struggle with the pile of work at the last moment.
Less work with Count Magic GST
You do less data entry work with CountMagic GST as most of the features support automatic accounting. You can automatically download and categorize bank and credit card transactions with Count Magic GST.
Work from anywhere
You can turn your spare minute into a productive one, as CountMagic GST gives you the freedom to access and work on your software while on the go. You can send invoices, reconcile accounts and do more from anywhere.
Round the Clock Connectivity
CountMagic GST empowers you to keep the 360⁰ tab on your business. You get the complete control panel which allows you to access customer info, invoices, business reports and more from anywhere and anytime.
Easily Share Books with Your Accountant
You can allow your accountant to access your books remotely to help you with the questions or issues that help you get ready for the tax on time. This way neither your accountant nor you are overburdened at the end of the financial year.
Ease of Use with Superb Functionality
A user-friendly interface along with superb features gives you a never before accounting experience. Count Magic GST does not demand you to be an expert or accountant to work on it. It can be easily used even by a layman as it is based on single-entry accounting. Moreover CountMagic GST also offers the option to connect with the experts or accountant if required.
No Pre-system Requirements
All you need is an internet connection to start with Count Magic GST as it is Hybrid i.e it's available on online and offline mode. Once you make an account and downloaded the desktop version, the net connection is not required anymore. Hence, you do not have to work on your system arrangements before you start with Count Magic GST. No additional infrastructure, no extra resources and no additional training is required to start with CountMagic GST.
Easy to Integrate with any Software
You can easily integrate your already existing accounting software with CountMagic GST. In other words you can easily and accurately import your data from any accounting software, i.e. Tally, SAP, Excel or any other ERP solution.
All Round Data Security
Data security is what we guarantee at CountMagic along with superb functionality and connectivity. We have implied all industry safety measures to ensure that your data remains safe both in transit and at our platforms. Your sensitive data remains in an encrypted form even when you transfer your data over public networks. Standard cryptographic protocols, regular security updates and more are in place to safeguard your data against any mode.
The Best GST Compliant Billing Software
Amazing Features & Benefits
Invoicing
Count Magic allows you a simple interface to automate your billing & invoicing processes
Inventory
Easily upload your items/SKUs into Count Magic and Manage your Inventory, Generate Stock Reports
Purchase
Setup vendors, Raise Purchase Orders, Track Order Fill Rate, Re-Order
Multi Category
Count Magic is a versatile software and can be used as easily for a trading business or a professional services firm
Payments
Count Magic is pre-integrated with your banking system, chose your payment gateway and start collecting payments online
Expenses
Easily set up expenses and monitor them
CA Integrated
Count Magic is cloud based so that your CA can easily access your accounting books and collaborate with you
GST Returns
Count Magic generates GST ready returns on a single click. Eliminate the hassle of submitting your books to your accountant, biz-icut credit calculations and return generation with a seamless experience of Count Magic
Audit Trail
Count Magic keep records of modified/cancelled invoices for Audit Trail
Reports
See how business is going with a glance with reports on the Count Magic dashboard
Paperless Invoicing
Generate invoice by email/SMS
Accounting
Count Magic comes pre-loaded with accounting books, so its easy to generate your ledgers and manage your accounts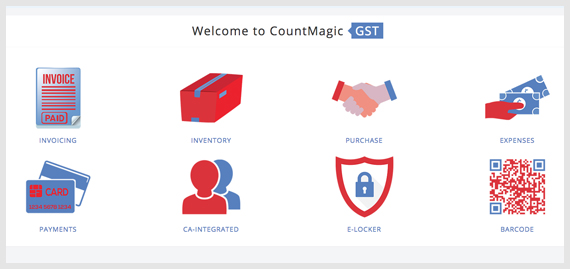 How CountMagic GST helps you become more efficient?
CountMagic GST helps you save a lot on time and cost. Reason being, that you only need to do billing through this software and the software does the rest like: GST Calculation, GST Return, and Accounting also bank statements for the full year can be uploaded in just a few minutes it eliminates the need of spending more on infrastructure. Automatic accounting features eliminate the need of extra resources. Being easy and user friendly saves the additional training cost.
How CountMagic GST simplifies your taxation & legal woes?
You no more require to worry about your tax returns as CountMagic GST also allows you to get the expert at your back to deal with all your taxation and legal woes. You can save a lot on your taxes with our premium CA-assisted income tax filing services.
How CountMagic GST uniquely simplifies your accounting experience?
CountMagic GST allows you to search, connect & consult with certified & verified CA/CS/CMA/Lawyers at a click for any tax, finance, legal or accounting issue. You can even schedule appointments, seek advice through audio/video consultation and even pay conveniently through a secure payment gateway.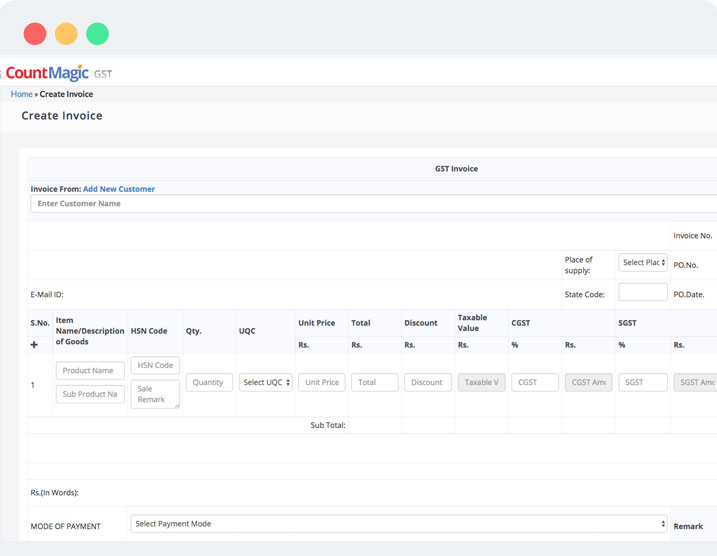 HYBRID BASED SOFTWARE
(COMING SOON)
GST Regime demands your business to ensure compliance under various categories.
Number of returns and information required under GST is huge
GST is not complicated, but, it is altogether a new concept demanding you more efforts to understand it.
GST calculations are more prone to errors. Very short reconciliation window - less than 5 days every month
With hybrid Based GST software, you get a better overview of your finances, and enjoy improved collaboration with your team.
Cloud based accounting helps you to work from anywhere in the world , And the data gets stored on the cloud
While the desktop version allows you to work on offline and gives you the convince of working without internet
Hence, if you wish your business to work smarter and faster, Hybrid Based GST enabled accounting software is the key.
Problems with Conventional Accounting Software
Problems with Conventional Accounting Software
You work on outdated data. Even your software does not get regular updates and you keep working on an obsolete model.
You have to stick to your desktop and cannot work on the go.
It is neither secure against data theft nor reliable while transferring your data.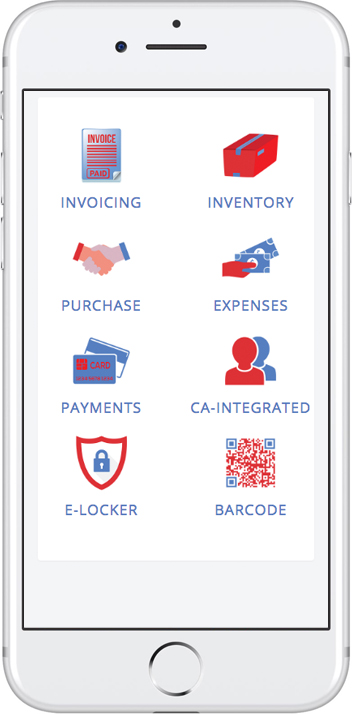 Only one user can work on a file in one time.
As a business owner, you cannot access financial and customer details in real time.
It is always expensive and complicated to keep backups and upgrade your software.
Get started today with a free trial till June 2020